Friday 25 June 2021: Charter Night
Charter Night is our annual celebration of the anniversary of the formation of our club. We remember the achievements we made in the previous year, and the fun we had! The president hands over to the next year's president, and all those members who have made a difference in the previous year are acknowledged.
This year's Charter Night was held at the Walter Arms, but it was a little subdued, and delayed, due to Coronavirus restrictions
Our outgoing president, Nigel Page, summarised the achievments of the past year then handed over to the new president, Andy Goffin. Andy thanked Nigel for all his work during the previous year and said that his objective for the forthcoming year was to raise £1,000 for charity for each member, setting a target of £32,000
Sunday 10 October 2021: A Walk in the Country
A small group of us met together for a short walk in the countryside around Henley.
We met at Henley Town Football Club car park and walked about 3 miles to the Baskerville pub, where we had a leasant refreshment break before continuing back along the banks of the Thames.
Monday 22 March 2021: Zoom meeting with German Twin Club
Wokingham Lions have been twinned with Offenbach Lions Club in Germany for many years. In 'normal' times we meet with them every two years with alternate meeting being hosted by them and by us. A meeting was scheduled in Wokingham for 2020 but due to coronavirus they weren't allowed to travel so the meeting had to be postponed. We also decided to cancel the 2021 meeting due to the uncertainty over the lockdown regulations. We therefore arranged a joint Zoom meeting, which was attended by about 18 members from each club. It was interesting to learn the similarities and differences between the effect of the pandemic in the UK and in Germany.
Saturday 5 December 2020: Virtual Christmas Dinner
Much has been affected by Coronavirus this year, including our annual Christmas Dinner! National restrictions meant we weren't able to meet as in other years so we did the best we could and held a Virtual Christmas Dinner. Orders were place on a local caterer, Vintage Hog Roasting Co, who delivered prepared Christmas meals to each of our members. We all then dressed in our festive outfits and joined together on Zoom. We split into smaller breakout rooms, each with 3 or 4 members, for each course so by the end of the meeting we had eaten a delicious Christmas meal with different company for each course.
Wednesday 18 November 2020: Zoom Bingo
We entertained ourselves with a few games of bingo. We charged each entrant £5.00 and gave half the proceeds as pize money and put the balance in our charity account.
Wednesday 26 August 2020: Zoom Drinks Evening
We asked members to offer a short presentation of their favourite drink. Oferrings varied from a cup of tea to a complicated cocktail. It gave us the opportunity to spend a convivial evening together.
Wednesday 29 July 2020: Virtual Treasure Hunt
Some of our members took part in a Covid-friendly treasure hunt. They could follow the clues either by car or from home using Google Street View.
Sunday, 30 November 2019

: Bring-a-Dish evening
Bring-a-Dish is a popular event, where each member brings a contribution to a four-course meal. There is thus plenty of choice, and invariably there is more food than can be eaten! We held it a WADE (Wokingham and District Association for the Elderly), which is a local charity that we regularly support. They have a large dining room and a well-equippped kitchen, so it is an ideal venue.
Friday 11 October 2019: Quiz Night
Our annual quiz night was a roaring success, with 12 tables of 8 competing for the coveted prize.
The Quizmaster, Ian Grange, stretched everyone's minds with a variety of simple and complex questions. A delicious chilli supper was prvided by Candy Kirkland, Jean Ibbottson and Lyn Baily. The venue, Wokingham Cricket Club, was ideal, and their bar kept us all lubricated.
Wednesday 28 August 2019: Aunt Sally
About 20 of us spent an enjoyable evening at the Queens Head playing Aunt Sally. The game is played by throwing timber batons at a wooden skittle (known as a doll or dolly) on top of a post. It dates back to the 17th century, but is still played in a small number of pubs in the Thames Valley.
After the game we had a fish and chip supper
Friday 19 July 2019: President's barbecue
Paul and Lyn Baily hosted a lovely night out for about 24 of us in their garden. We enjoyed a sumptious meal expertly barbecued by Paul and great sides and desserts prepared by Lyn (with the help of other ladies)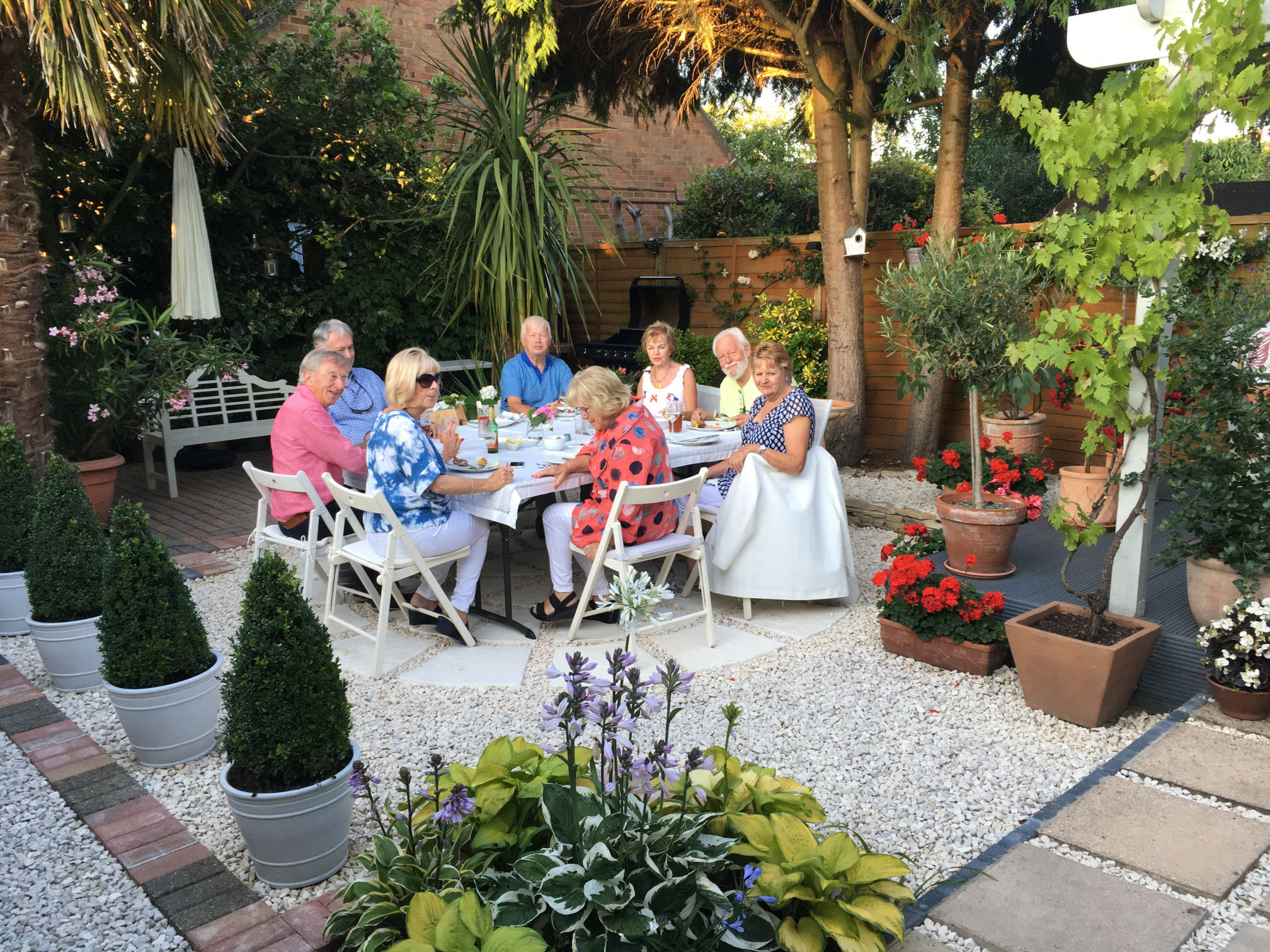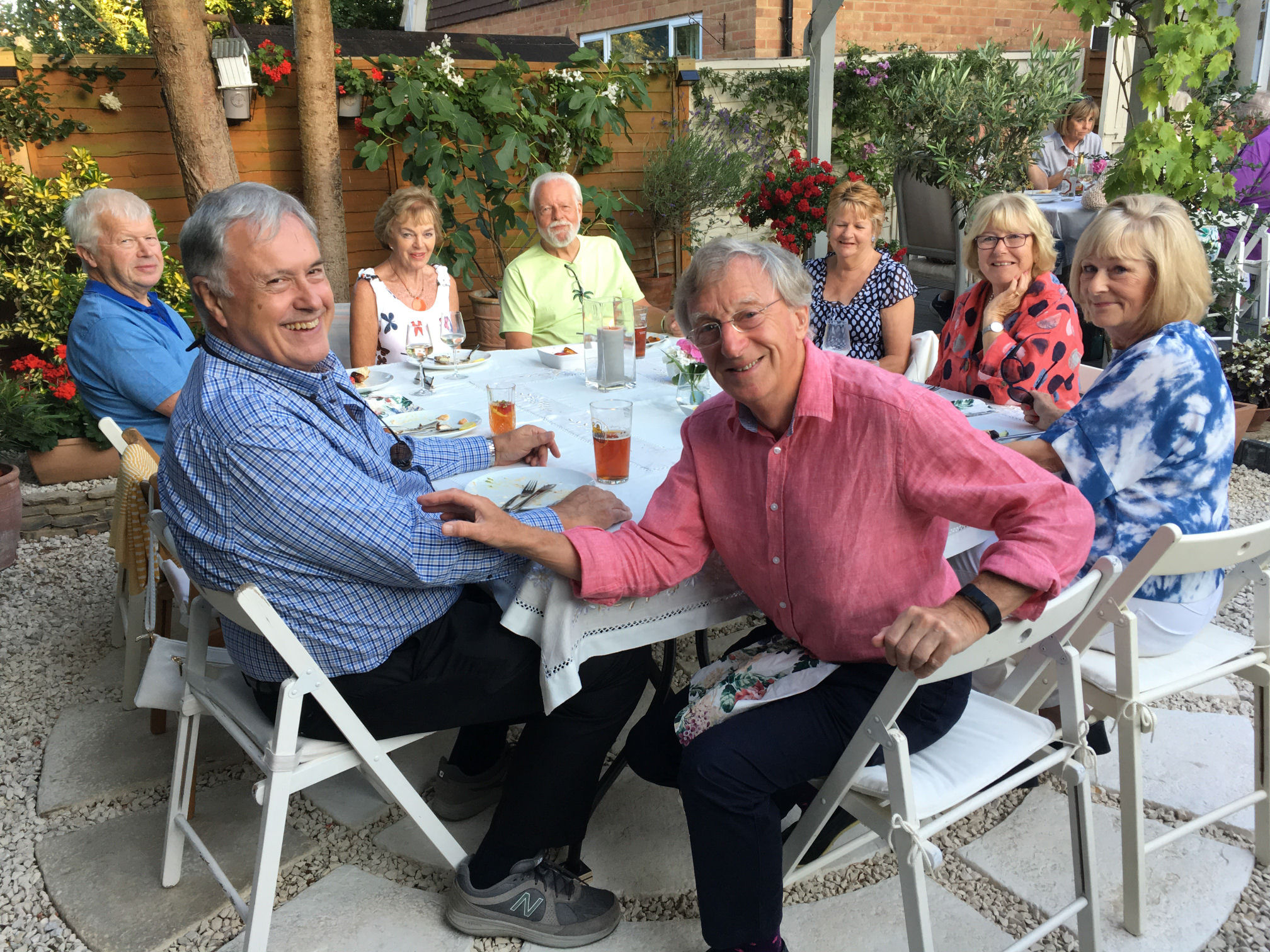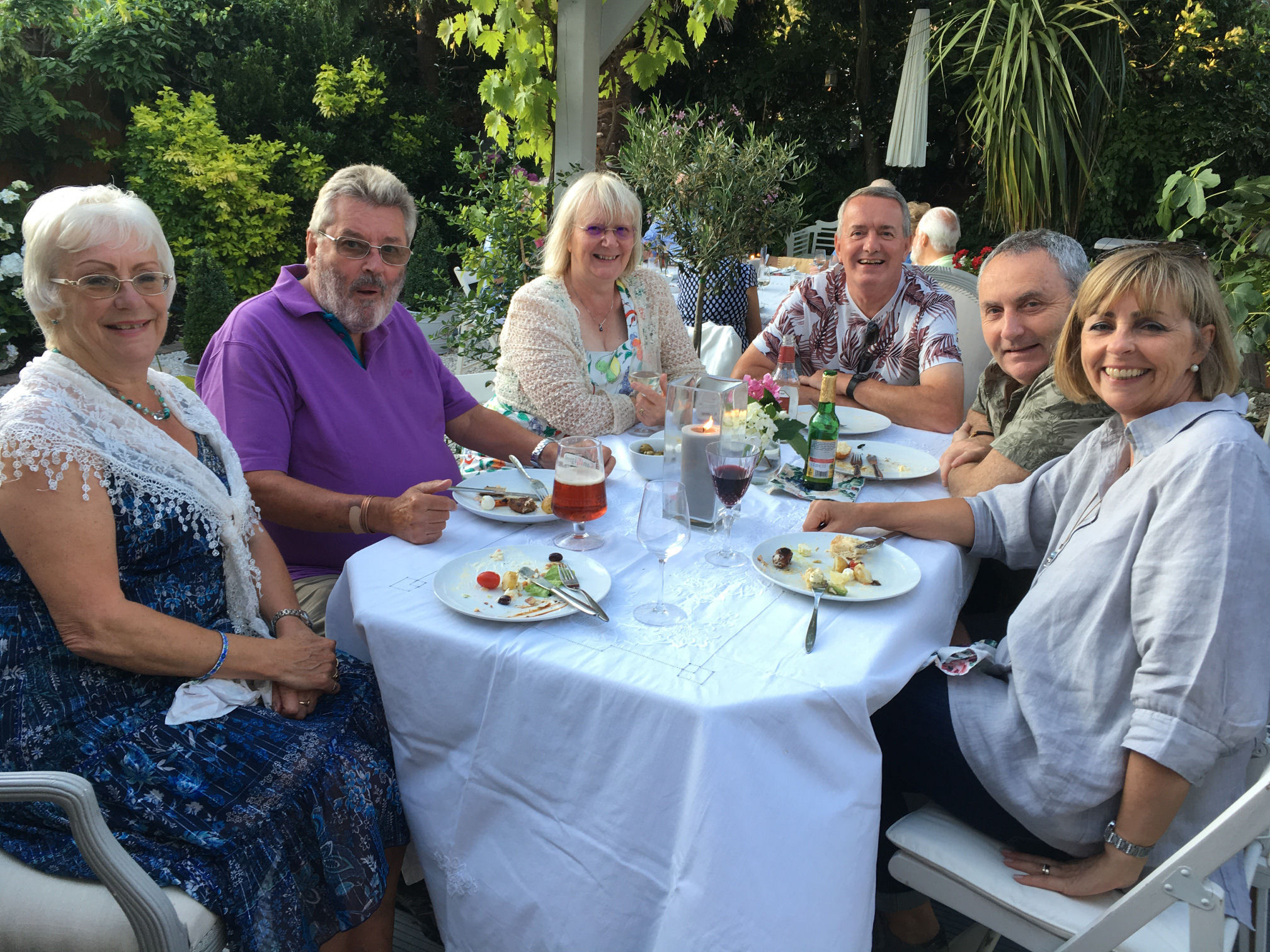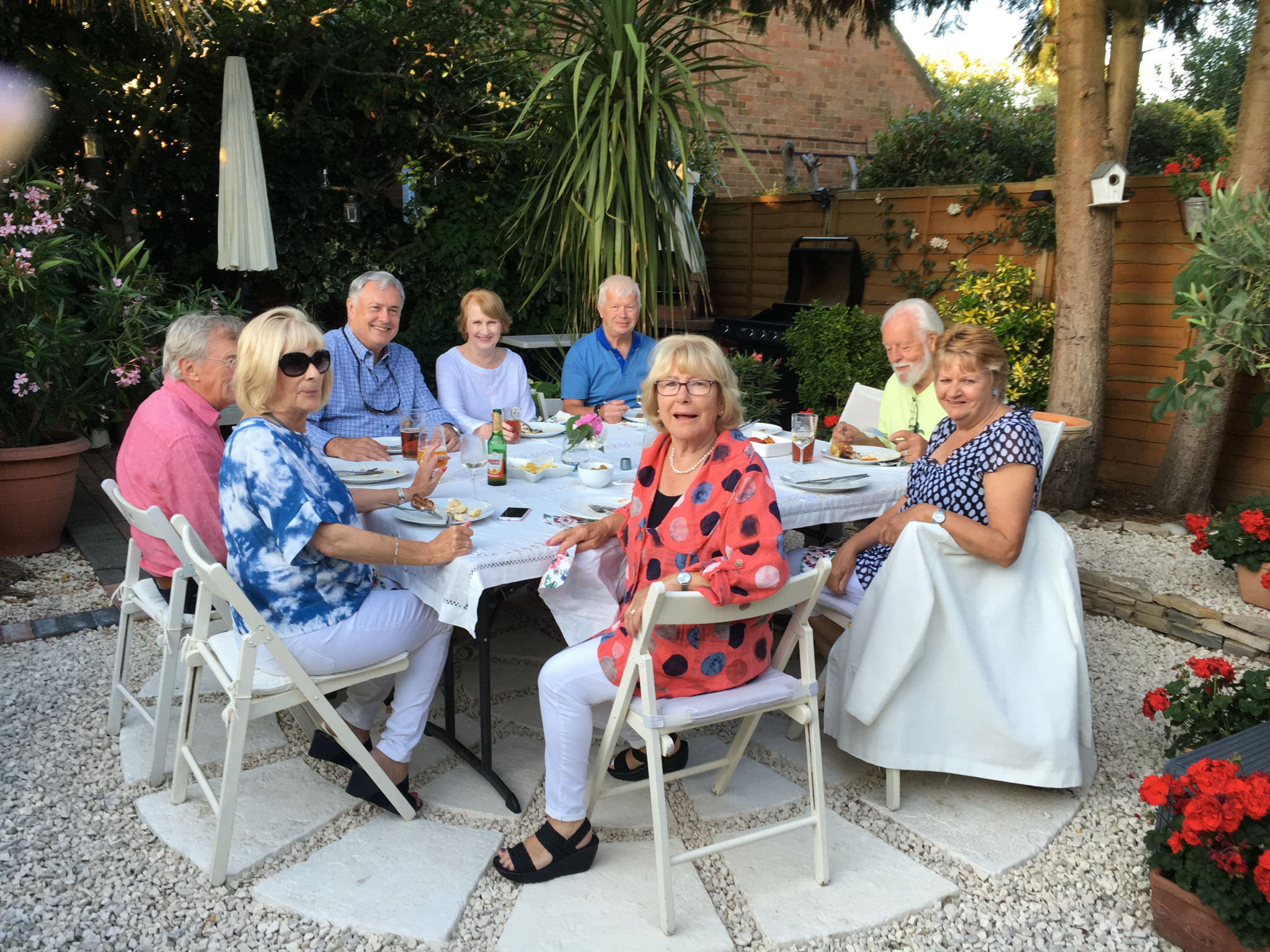 Sunday 30 June 2019: Charter Lunch
The Charter Lunch is our traditional annual event to mark the start of a new financial year, to celebrate the achievements of the previous year and to welcome the new president. This year's lunch was held in the glorious surroundings of Wokingham Town Hall. After a nice meal the outgoing president, Debbie Slay, welcomed the new president, Lyn Baily:
June 2019: German Exchange
13 Lions and partners visited our twin German club, Offenbach in der Südpfalz. They planned a great program; including a tour of Heidelberg and boat trip with a meal in a village restaurant, a visit to a castle (Tim Hanton suggested that our Lions President Debbie should be put in the stocks) and lunch over the border in France followed by a meal at one of their members restaurant with views over the valley. Most of all it was the hospitality they extended and the friendship and laughter shared that made it so special.

Wednesday 27 March 2019: Skittles Evening
We had a fun night at the Frog and Wicket, playing bar skittles
Saturday 9 February 2019: Gangsters & Molls Night
This was a great night out, themed on the 1930's. Everyone got into the spirit and dressed in the appropriate style. Big thanks to everyone involved in organising it, especially Lyn, Jean and Candy who prepared over 100 meals!
Wednesday 20 December 2018: Christmas Dinner
Our Christmas Dinner at Bearwood Golf Club was a fun evening with over 40 of our members, partners and friends. After a festive Christmas meal we enjoyed communal carol singing, followed by a very amusing rendition of the Twelve Days of Christmas customised by Lyn Baily to summarise Lions Club events.